DOOR ENTRY SYSTEMS
Central Alarms partners with several leading manufacturers to provide the door entry system most appropriate to your requirements.
Providing security and discouraging unwanted entry into buildings is at the heart of the Central Alarms business and offering protection for your property and their occupants through Door Entry systems, Entry Phone Systems and Access Control is a very important area for the company.
GET A FREE QUOTE:
Call us for a free, no obligation quote, or to find out more information about our Door Entry systems.
Alternatively, fill out our contact form, and we'll get back to you.
All businesses, whether small, medium or large, have valuable property that need to be protected from theft. There is also the issue of protecting staff and their property. It is common in buildings that are secured by locks and keys for doors to be left unlocked all day. This opens up the possibility of opportunistic theft and malicious damage.
Electronic access control provides a convenient way of securing your building and valuable property. Installing an access control system means that you will never have to change a lock again. Cards and Key fobs can be issued to allow access through the controlled doors. These are easily barred from the system if they are lost, stolen or just not returned by someone who leaves your company. Barred users will not be allowed access through the controlled doors.
For those looking for a wireless alarm system, our Pyronix range provides many advantages, including a wireless portable panic button and wireless external self actuating siren.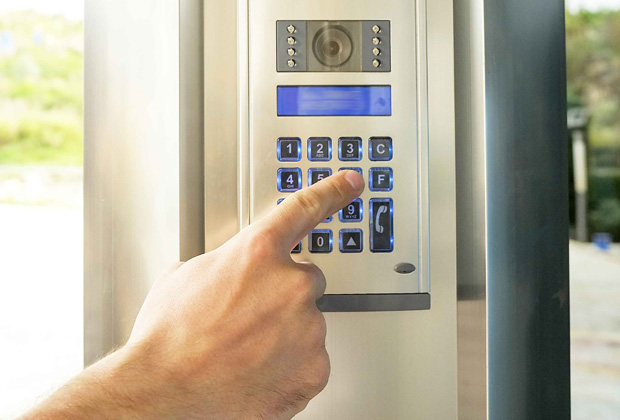 Door entry systems are becoming a more popular security feature and are commonly used in blocks of flats and other private residencies. They are also found in other areas where access needs to be restricted but a full access control system is not appropriate, for example hospital wards.
The most basic door entry systems simply allow speech between someone wanting to gain access through a controlled door and a person inside the building, who can then admit the caller by pressing a button. These entry phone systems are basic but there are many other technologies available depending on your exact requirements.
Video entry systems include the same audio link as door entry systems while also providing a visual link so the occupant can both talk to and see the caller. High definition video and high quality sound makes easy the identification of visitors by both day and night.
Our door entry units can be integrated with access control systems so that tenants can gain entry themselves using either a fob or access card.